Western Slope Skies - Grand Mesa Observatory: Eye on the Sky
 Grand Mesa Observatory. Contrary to popular belief, it is not the old, small building on top of the mesa where the chipmunks live!
Nestled in a side valley at the western end of the Grand Mesa at an altitude of 6,100 feet, Grand Mesa Observatory is an astronomy observatory complex shielded somewhat from the lights of nearby towns and cities, where amazing photos of deep sky celestial objects are captured.
These objects include galaxies, nebulae, star clusters, star birthing regions, interstellar dust clouds, and planetary nebulae. Many of the images taken at Grand Mesa Observatory have been featured in widely read astronomy magazines. Some have even been chosen as NASA Astronomy Photos of the Day. And all taken from right here in Western Colorado!
Astrophotos are not taken like "selfies". Rather, long time exposures are taken. This is referred to as data gathering. The data is then processed by astrophotographer and Grand Mesa Observatory Director, Terry Hancock. Astro-imaging relies on dark skies, moonless nights, and cloud- and smoke-free nights.
The dark skies there on the side of the Mesa motivated native Coloradans John Mansur and his wife Vicki to dedicate some of the family's long-held land to construct a working observatory for the purpose of astronomy education and public outreach. Grand Mesa Observatory became a nonprofit whose mission is to provide hands on experiences and educational opportunities that foster a passion for astronomy and science in Western Colorado.
The observatory complex includes a 16 x 32 foot roll-off roof observatory that houses 6 telescopes on computerized tracking mounts, fitted with cameras for astrophotography, and a separate dome observatory with a 16-inch telescope that is used remotely for research by astronomy students around the country and the world.
A large concrete observing pad, with 9 electrical posts and red lighting, offers the perfect site for hosting student groups, boy and girl scouts, senior groups, and many other educational groups to view the wonders of the night sky through a variety of telescopes. These are manned by members of local astronomy clubs who also give informative night sky tours and answer visitors' questions. Tours of the observatories are also part of group visits. The response of most visitors when looking through the telescopes is that of amazement, especially when viewing the popular planets, Jupiter and Saturn, and the Moon. Just as spectacular, is many people's first experience of seeing the majestic Milky Way arching across the dark sky.
A separate observatory houses one of the US Air Force Academy's 12 worldwide Falcon Telescopes. This observatory, with its 20-inch telescope, is an alliance project between Colorado Mesa University and the US Air Force Academy. It is used for space research and educational outreach.
Grand Mesa Observatory – you will not find any chipmunks there – but you will find adventures in astronomy!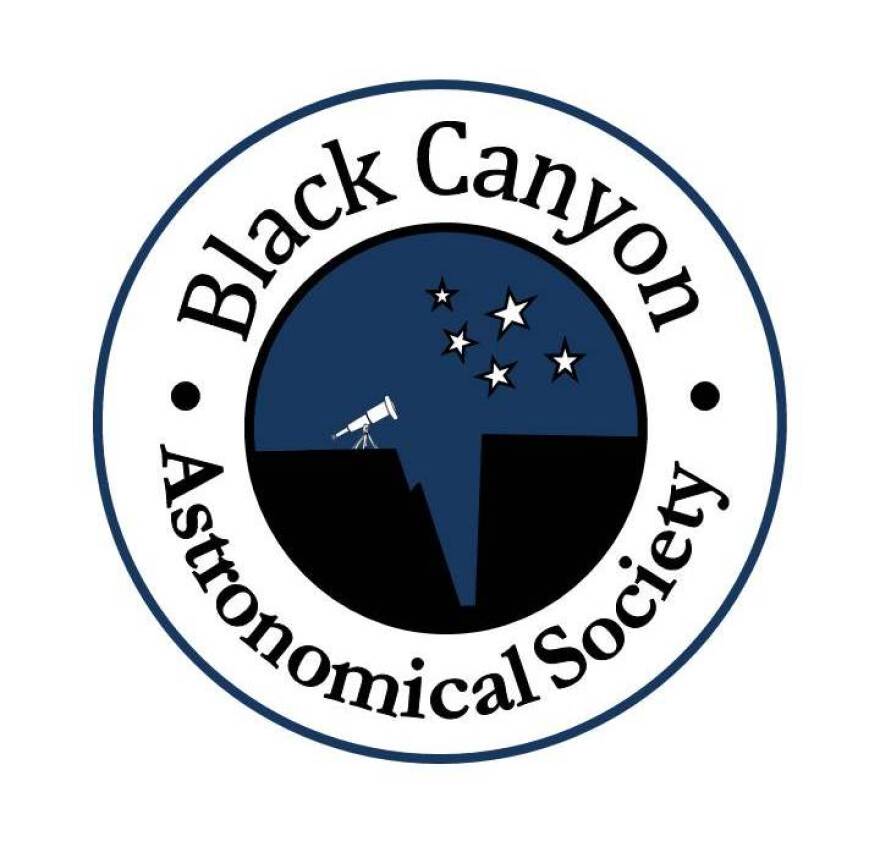 Western Slope Skies is produced by members of the Black Canyon Astronomical Society. This episode was written and recorded by Nancy McGuire.