Grand Junction Photography Project Looks Beyond The Badge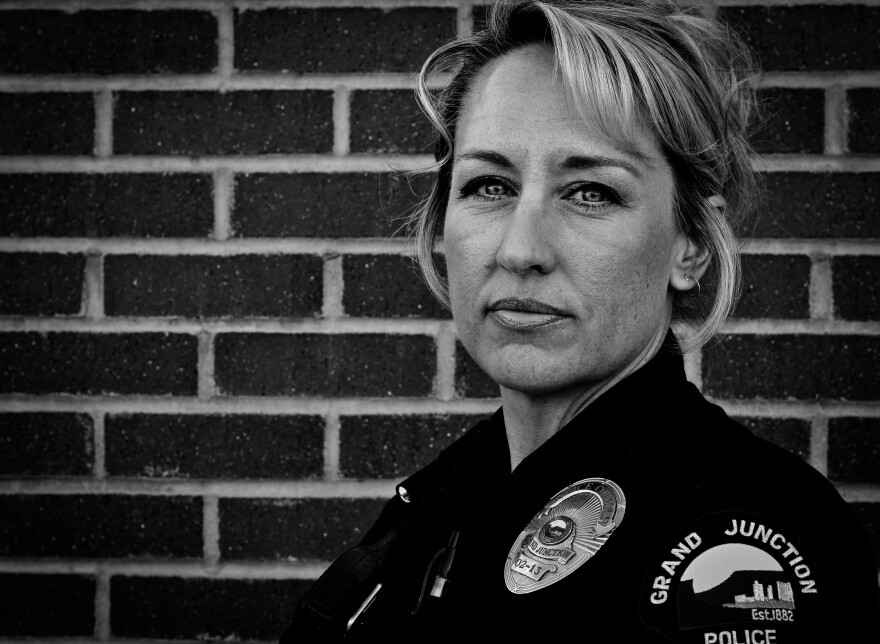 This week is National Police Week. It is an occasion to honor officers who died in the line of duty.
The time of remembrance this year comes on the heels of protests against police in major cities across the U.S. and a national debate on police tactics.
In a local effort to increase understanding between law enforcement and the public, a Western Slope photographer is trying to get people to look beyond the badge and see the person in uniform.
Photographer Nathan Lopez moved to Grand Junction seven months ago from Oregon.
After he settled in the city, he started searching for a community project to work on.
"I have a history of family that's been in and around law enforcement so looking at the police department here they really did offer this great subculture with a community," said Lopez.
In February, he approached the Grand Junction Police Department about a photography project. He wanted to take pictures of officers and share their stories.
"I think in many professions people can be kind of painted with a large brush," he said. "I think it's important across all boards to remember that there are human beings who wake and choose to be police officers. They choose to be there for you."
The Grand Junction Police Department serves a population of nearly 60,000. The department has 112 law enforcement officers. So far, nine of them have volunteered to have their portrait taken by Lopez. He also interviews them for a short bio to go along with their picture.
When he started, Lopez says he didn't know what to expect from the one-on-one sessions with officers.
"What I found is none of these officers like wake up and want to be the top cop and they don't want to be the hero and they don't want to go out and be something beyond imagination," he said. "They just want to go out and make the community a better place."
Sgt. Jim Creasy, a 22-year veteran of the department, was the first to volunteer for the photo series.
"It's a way to kind of humanize police officers," said Creasy. "You know often times I think the general public's perception is development through media or TV shows and things like that so they may not quite have the idea of how we aren't always in our uniform."
Officer Dustin Bovee also had his picture taken. He's been with the force for three years and is an Iraq war veteran. Bovee said being a police officer is a way for him to continue to serve his community.
"It can be dangerous, but I believe that having the ability to make a difference in somebody's life is more important," Bovee said. "And, I don't believe there's a better position to where you can have that type of an impact so that is one of the main reasons why I decided that law enforcement was something I would pursue as a career."
The portraits Lopez takes are in black and white. He said he feels the medium tells a more raw and honest story.
"It's all bust shots," Lopez said. "It's from the chest up in an effort to see both the uniform but also the face and human being behind it."
He said the project is ongoing and the collect of photographs will grow as more officers volunteer.